Communication Devices & Mobile Computing Services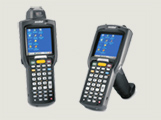 MIG is an authorized reseller partner of Motorola for North America, with a concentration on RFID, communication devices and mobile computing.
As well as products, MIG provides on-site surveys to upgrade existing infrastructure and new systems. In partnerships with strategic alliances, we can provide labor, specific materials for programming and installation. MIG supports customers with technical support and project management.
Mobility