Stamping
MIG's stamping operation is located in Athens, Tennessee. This facility is in proximity of most of the southern and east southern automotive OEM's and tier one suppliers. Our two facilities total over 50,000 square feet of floor space. Our 1,400 employees average 20 years of stamping experience. We provide products to customers across the country and throughout the world. Our stampings and assemblies support end-item customers including Kia, Toyota, Honda, Ford, Nissan, Chrysler, and GM.
17 Stamping Presses
13 Progressive 250 to 1000 ton
4 – Transfer 400, 880, & 1100 ton
96" to 288" Press Bed Length
Servo Steel Feed Systems
MIG ships 160,000 stampings daily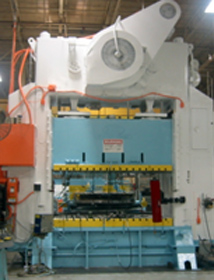 Assembly
Top
The use of automated pallet lines for processes such as spinning on these tracks allows MIG to produce high quality manual and power seat tracks and locking mechanisms efficiently and with repeatable performance.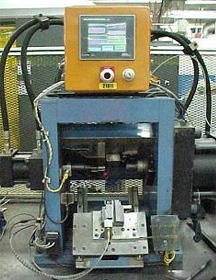 Light Press Work
Top
MIG utilizes light tonnage presses to form Teflon coated bushings in holes, join press fit metal components together, stake rivets, punch holes and create forms in metal components.
148 light presses, stakers, clinch presses and joining machines.
Swaging
Top
Mechanical alternative for affixing brackets to tubular forms with excellent rotational strength and a high degree of dimensional accuracy.
Bead compression of a tube with a finger lock, welding link to the tube.
Fine Blanking & Broaching
Top
MIG delivers more than 9.4 million fine blank components per year. Current PPM rating is 5.2. MIG has the capability to produce the various components to its recliner assemblies. This give us total control of the critical characteristic specifications of our gears
We operate using three linear broaching machines. Each machine is cutting teeth in stampings .The stamping one is used in automotive sectors and paw seat recliners. Each broach is sharpened in-house or sent for wipeout, and new cutters machined in. Set-ups range from three to eight parts per cycle and gaging to customer requirements.
1 – 1000 Ton Fine Blank Press
1 – 800 Ton Fine Blank Press
2 – 630 Ton Fine Blank Press
1 – 320 Ton Fine Blank Press